Michel Special Edition "German Colonies" 2015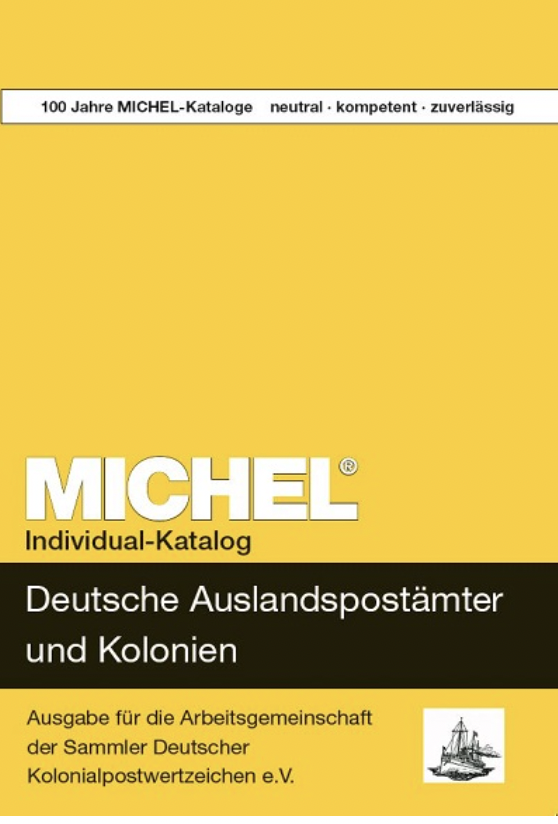 The Study Group of the Collectors of German Colonial Stamps (Arbeitsgemeinschaft der Sammler Deutscher Kolonialpostwertzeichen e.V.) is issuing in cooperation with the Schwaneberger Verlag GmbH a special edition of a Michel Catalogue "German Post Offices Abroad and Colonies".
This catalogue will contain the extracts of the German Post Offices Abroad and the German Colonies from the Michel Germany Specialized Catalogue 2015, also the extracts of these territories from the Michel Postal Stationary Catalogue 2014, the colonies out of the Michel Coins of Germany 2015 as well as the various occupation issues from the various Michel Overseas Catalogues. In detail the following chapters will be included:
German Post Offices Abroad and German Colonies
German Seapost
German Post Offices Abroad and German Colonies Postal Stationary
German Colonies Coins
N.W. Pacific Islands
Nyasaland Field Force
Tanganyika G. E. A. overprints
Mafia Island
Kionga
Belgium occupation of German East Africa
South African occupation of German South-West-Africa
French occupation of Cameroon
British occupation of Cameroon
Japanese occupation of the Marshall-Islands
Australian occupation of Nauru
New Zealand occupation of Samoa
French occupation of Togo
British occupation of Togo
This catalogue will contain some 170 pages which are summarizing the German Colonies in all aspects and will be a perfect combination with our Postmark Catalogue.
The catalogue can be ordered through the general secretary: Tilmann Nössig Koppenstr. 16 D-10243 Berlin eMail: Geschaeftsfuehrer@kolonialmarken.de
The cost is € 29.- (members € 23.-) + € 4 international postage.
Sold out – a new issue is planed for 2023.